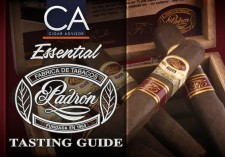 CigarAdvisor.com Editors Introduce Consumers to Padrón's Top Premium Cigars
EASTON, Pa., October 31, 2017 (Newswire.com) - It all started with a man and his hammer. Orlando Padrón left his native Cuba in 1962, and like many of his fellow expatriates, brought with him the ethics of hard work. Orlando's first job was as a carpenter's assistant (that's how he got the hammer) and two years later, the Padróns were making cigars again. Today Orlando's hammer is displayed in the Padrón offices as the company's success symbol. To bring some well-deserved attention to the greater cigar-smoking community about the Padrón brand, the editors at CigarAdvisor.com have written "The Essential Padrón Cigars Tasting Guide," a compilation of Padrón's most popular cigars in natural and maduro wrappers across the label's 11 distinctive selections.
Padrón's cigars are made in Nicaragua, almost all of which are puros, and are further distinguished by their box-pressed shapes.
It's amazing. Even with all of the other great premium cigar brands being made today, Padrón cigars seem to be in a class all their own and are as highly regarded among many cigar smokers as Cuban cigars.

Gary Korb, Cigar Advisor Executive Editor
"It's amazing. Even with all of the other great premium cigar brands being made today, Padrón cigars seem to be in a class all their own and are as highly regarded among many cigar smokers as Cuban cigars," said Cigar Advisor Executive Editor Gary Korb.
Among the vitolas featured in the Tasting Guide is the highly regarded Padrón 1964 Anniversary Maduro "Exclusivo," about which Mr. Korb wrote, "I guess my 3/4-inch nub tells the story ... The maduro Exclusivo was definitely sweeter in flavor and more complex than its natural counterpart, in that, it offered more flavor variety and change-ups during the course of the smoke."
Among the other upmarket Padróns in the Guide is the Padrón 1926 Maduro Robusto.
"A nice blast of cocoa and sweet cedar are the first things that hit the palate, quickly turning into deeper flavors like dark chocolate and dark fruit like plum and black cherry," wrote Editor-at-Large Tommy "Zman" Zarzecki. "Make no mistake, this '26 is meant to be savored as the perfect post-meal smoke."
"Padrón ​ cigars, in general, have a reputation for offering a strong flavor that reminds you of coffee on your taste buds; this one does too, and gets to a Café Americano type of taste, like slightly sweetened black coffee," wrote Managing Editor John Pullo about the Toro-sized Padrón Family Reserve 45 Years.
One of the special releases from Padrón this year was the F75 by Padrón cigar, made exclusively for Famous Smoke Shop in honor of the cigar retailer's 75th year in business.
"The cigar produces a dense, rich smoke, lots of woody aroma, and gradually picks up in strength," wrote Famous Smoke Shop Buyer Michael Klingerman. "The F75, which is actually a Padron 1926 rolled in this exclusive fat robusto size, maintains a biting rich finish on the tongue without any overt pepper spice."
From Padrón's main line "Thousands" selection, Fred Lunt reported on the Padrón 6000 Torpedo stating, "Right off the bat I'm hit by a full wave of toasty sweetness with a nutty and wood component. After a few puffs I'm Zen … The retrohale is extremely sweet, with cedar and a small rush of white pepper."
Not all Padrón cigars are rolled entirely with Nicaraguan tobaccos. The Padrón Damaso, released in 2015, boasts a Connecticut Shade wrapper, a first for the brand, and it's not box-pressed, which is another first. It's also lighter in body, making it more accessible to new cigar smokers who want to dip into the Padrón well.
"The initial flavors were very sweet and toasty, with roasted nuts – a very buttery smoke," wrote Mr. Lunt. "Overall, this cigar showed all the consistent flavors of a Connecticut wrapped cigar, albeit stronger than your typical Connecticut. If you want to get creative, pair this with a medium strength IPA or Speyside Scotch."
"Although the Anniversary, 1926 and 45 Years selections tend to get the most attention, I suggest newer cigar smokers start with the main line Padrón's in the Thousands series," said Mr. Korb. "They have a lot of the same flavor properties found in the high-end lines, and are much more affordable."
The complete list of Padrón cigars reviewed by the CigarAdvisor.com staff can be found in The Essential Padrón Cigars Tasting Guide.
About Cigar Advisor
Cigar Advisor, the nation's premiere online cigar magazine, proudly serves cigar enthusiasts with a uniquely down-to-earth perspective on the enjoyment of premium cigars. Well-known and highly regarded for providing acclaimed educational cigar content and behind-the-scenes industry articles from some of the business's top names, the Cigar Advisor editors deliver an array of content that speaks directly to those who enjoy the cigar lifestyle.
Source: Cigar Advisor
Share: