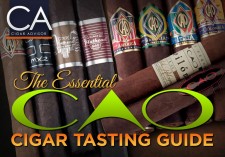 CigarAdvisor.com Taps 18 Blends in-all from "World," "New Age" and "Classic" Series
EASTON, Pa., November 14, 2017 (Newswire.com) - It would not be surprising to learn that most cigar smokers today don't know the name Cano Aret Ozgener, but odds are they would recognize his initials that prefix every selection in the CAO Cigars brand. Cano, pronounced, "John-O," is the Turkish renaissance man (meerschaum pipe carver, engineer, and celebrated painter), whose modest boutique brand captured the attention of the cigar industry during the 1990s Cigar Boom. Originally based in Nashville, Tennessee, like many smaller cigar companies, it was a family business, but in 2007 CAO was acquired by General Cigar. Today, CAO Cigars is supervised by Rick Rodriguez, whose blending acumen has preserved Cano's artisan legacy while inducting a new era of popularity for the brand among the current generation of cigar smokers.
For "The Essential CAO Cigar Tasting Guide," the editorial staff of CigarAdvisor.com sampled and reviewed 18 of CAO's regular production cigars and grouped them by Series: "World," "New Age," and "Classic."
CAO Cigars is supervised by Rick Rodriguez, whose blending acumen has preserved Cano's artisan legacy while inducting a new era of popularity for the brand among the current generation of cigar smokers.

Gary Korb, Cigar Advisor Executive Editor
Featured among the "World" Series is one of CAO's most recent releases: The CAO Amazon Basin Fuma Em Corda cigar was described as having "Ginormous rips of thick, glorious smoke" by Cigar Advisor Managing Editor, John Pullo. "Earth and mineral flavors are laced with a sweet note that picks up at halfway and lingers, along with some spicy pinpricks on the tongue."
Readers will also find cigar reviews of other World Series cigars that include the CAO Italia, Colombia, America, OSA, and CAO Brazilia cigars.
Among the most intriguing of the collections for today's cigar smoker is CAO's "New Age" series, where Mr. Rodriguez displays his capacity for blending exotic tobaccos and creating some classic Cuban-style cigar formats.
New to the series this year was the CAO Consigliere cigars selection. In his review of the Consigliere Soldier, Executive Editor, Gary Korb notes, "This Toro is all aces. It starts out smooth, creamy, sweet and spicy with a medium-plus body. I would recommend it to experienced cigar smokers with a preference for bolder Nicaraguan cigars."
"Loads of cedar wood, coffee and leather, with a little hay [as] sweetness develops into honey with a slight pepper and toasty note," wrote Fred Lunt about the CAO Flathead Steel Horse Apehanger. "I was blown away by how smooth and buttery the smoke was."
"Fans of full-bodied, full-flavored cigars with balance and complexity are going to love this one long-time," wrote Editor-at-Large, Tommy "Zman" Zarzecki, about the CAO Flathead V554 Camshaft. "The box-pressed shape shows off the sheen of the Broadleaf wrapper and [offers] a perfect draw. Notes of dark chocolate, earth, pepper and black cherry run throughout as this complex stick changes and the flavors intermingle."
The "Classic Series" embodies many of the earlier CAO Cigars that brought the brand to fame like the CAO Gold, Gold Maduro, and Cameroon L'Anniversaire selections. Some of these cigars are also the most accessible to new cigar smokers for their mild- to medium-bodied flavor profiles and reasonable cost.
"You'll appreciate the fact that this cigar doesn't hit you in the gut," wrote John Pullo about the CAO Gold Maduro Corona Gorda. "It's a mild-medium smoke [that's] thick and creamy – almost chewy – and coats the palate generously. . . maltiness moves to a taste reminiscent of coffee with cream, plus a sweetness that tastes like the honey on graham crackers. . .a slam-dunk with coffee."
At its best, the Guide illustrates the wide berth CAO cigars have created in the premium cigar market, making it a valuable tool for cigar smokers of every experience. The complete list of CAO cigars reviewed by the CigarAdvisor.com staff can be found in The Essential CAO Cigars Tasting Guide.
About Cigar Advisor
Cigar Advisor, the nation's premier online cigar magazine, proudly serves cigar enthusiasts with a uniquely down-to-earth perspective on the enjoyment of premium cigars. Well-known and highly regarded for providing acclaimed educational cigar content and behind-the-scenes industry articles from some of the business's top names, the Cigar Advisor editors deliver an array of content that speaks directly to those who enjoy the cigar lifestyle.
Source: Cigar Advisor
Share: