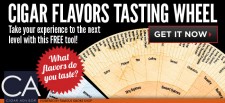 Cigar Advisor Magazine Releases Cigar Flavor Wheel as a Free Online Tool
Easton, PA, September 21, 2017 (Newswire.com) - ​​​Cigar Advisor, the nation's premiere online cigar magazine, proudly serves cigar enthusiasts with a uniquely down-to-earth perspective on the enjoyment of premium cigars. The magazine has released a Cigar Flavor Wheel as a free resource to all cigar enthusiasts.
A flavor wheel serves primarily to help cigar smokers comprehend the flavors and aromas of their cigars. It also provides a common language for fellow smokers, regardless of their experience level, to use and be able to discuss the sensations and tastes they detect in their cigars. Flavor wheels are commonly used for tasting wine, bourbon, scotch, and coffee, as well – and this Cigar Advisor release fills a need for cigar smokers looking to knowingly identify, share and discuss simple and complex flavor components. "It's created in of the spirit of sharing knowledge with fellow cigar lovers," says John Pullo, Managing Editor of Cigar Advisor.
"It's created in of the spirit of sharing knowledge with fellow cigar lovers"

John Pullo, Managing Editor of Cigar Advisor
The flavor wheel is available as a free download on Famous Smoke Shop's website.
How a Cigar Flavor Wheel Works
Using this powerful tool will allow cigar smokers to think about their cigars, and how they appeal to the senses, a little differently. First, look at the inner groupings of Animal, Spices, Plant, and Other flavors. If your cigar tastes spicy, you can use the wheel to narrow the kind of flavor down to Sweet Spices, Dry Spices, Toasty, or Buttery. From there, a smoker will be able to derive and identify further specific notes and flavors that they may subjectively taste; overall, this flavor wheel features 176 specific tasting notes that range from general to very nuanced flavors.
"The first time I ever used a flavor wheel, it really helped me understand my cigar better", says John Pullo, Managing Editor of Cigar Advisor. "This was our chance to pay it forward to other cigar enthusiasts, and help them do the same."
For more information on how it works, and to download Cigar Advisor's Cigar Flavor Wheel for FREE - Go to Famous-smoke.com/cigar-flavor-wheel
About Cigar Advisor Magazine:
Cigar Advisor magazine is a digital publication created by, and for, real cigar enthusiasts. The Editors strive every day to accomplish three goals: welcome novices to the hobby of cigar smoking with advice and open arms; share their tobacco-rich lifestyle with good friends and veteran smokers alike; and profess their love for a good smoke with cigar enthusiasts of all stripes, from around the world. Cigar smokers are a passionate bunch and whether it is food, drink, sports or cigars they're fanatical about, Cigar Advisor shares those passions with a razor-sharp edge. Find that passion and more on display at CigarAdvisor.com.
Source: Cigar Advisor
Share: