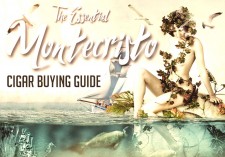 Advisors publish detailed tasting notes on Montecristo cigar portfolio
Easton, PA, July 14, 2017 (Newswire.com) - -- Cigar Advisor, the nation's premiere online cigar magazine, proudly serves cigar enthusiasts with a uniquely down-to-earth perspective on the enjoyment of premium cigars. The magazine has released a new comprehensive tasting guide for cigar smokers detailing non-Cuban Montecristo cigars, a legendary cigar brand produced in the Dominican Republic. Regarded as "luxury class" cigars and constructed with fine, aged premium and rare tobaccos, Montecristo premium cigars have been a long-time favorite among American smokers. The new CA Report, titled "The Essential Cigar Advisor Guide to Montecristo Cigars," contains the Cigar Advisor Editors' full-length cigar reviews on each of the Montecristo brands at Famous Smoke Shop.
The tale of Montecristo cigars began in 1935 with Alonso Mendez, who purchased the Particulares Factory in Havana. Mendez was looking to bring a new cigar to market, naming his brand after the Alexander Dumas classic, The Count of Montecristo. The book was popular at the time with cigar factory lectors; these workers read the story aloud to the cigar rollers as they made cigars. After the Castro Regime seized the company's assets in 1960, Mendez and his partners fled to the Canary Islands, eventually settling in the Dominican Republic. As fate would have it, they met Pepe Mendez, another Cuban refugee, who would source their tobacco and help revive production of Montecristo cigars outside of Cuba – and onward to high demand in the United States.
"If you like 'em full and complex, I bet you'd enjoy pairing the Montecristo Espada with a heavier beer or Islay whisky."

John Pullo, Cigar Advisor Managing Editor
Today, the Montecristo cigar lineup has expanded to twelve brands. The Cigar Advisor editors have reviewed each and provided readers with in-depth tasting notes, blend information and brand history for the guide.
"The definitive relaxation smoke."
Executive Editor Gary Korb covered why the original non-Cuban Montecristo No. 2 is so highly regarded: "the smoke was smooth, creamy and perfectly balanced throughout." Gary also detailed the Montecristo Pilotico Pepe Mendez and Montecristo White Vintage cigars, noting the Pepe Mendez tribute to have "a wealth of chewy smoke brimming with creamy, complex flavors… a perfectly-balanced ride right down to the last inch." For those that like a sweeter taste to their cigar, Korb recommends studying his Montecristo White Vintage tasting notes.
Pairing Montecristo cigars
"If you like 'em full and complex, I bet you'd enjoy pairing the Montecristo Espada with a heavier beer or Islay whiskey," writes John Pullo, Cigar Advisor Managing Editor. Made with aged tobaccos, the Espada is one of the stronger cigars in the Montecristo portfolio. He also reviewed the Montecristo Epic and Montecristo Classic, which he described as a connoisseur's cigar: "that would pair very well with… artisanal coffees, aged rums or wines."
Montecristo: "A+"
Advisor Fred Lunt reviewed the Monte by Montecristo, as well as the Platinum and Crystal Seleccion. The Monte earned "an A+" from Lunt: "This cigar hit me just right on every point: perfect construction, flavor, strength, and complexity." He found the Montecristo Crystal Seleccion to be a perfect complement to a cup of coffee, while the Platinum – made with Nicaraguan and Peruvian tobaccos - is "one flavorfully sweet experience with a rich cedar and peppery flavor."
"Montecristo proves itself."
Tommy 'Zman' Zarzecki, Cigar Advisor Editor-at-Large compiled tasting notes for the Monte by Montecristo AJ Fernandez, Montecristo White Series and the Montecristo Relentless line of cigars. In his experience, the Montecristo Relentless proved itself as a "beefy" Ecuadorian Connecticut Shade smoke, though not as elegant as the White series – which Zarzecki noted to be "a very rich and creamy stick that has great balance and is wonderfully complex." He also reviewed the Montecristo blended by AJ Fernandez, which proved a "dark, delicious medium to full bodied treat."
To see the full readout of the Advisors' Montecristo cigars tasting notes, as well as the details on the blending and performance of these famed Dominican cigars in the Tasting Guide, go to cigaradvisor.com.
About Cigar Advisor Magazine:
Cigar Advisor Magazine is a digital publication created by, and for, real cigar enthusiasts. The Editors strive every day to accomplish three goals: welcome novices to the hobby of cigar smoking with advice and open arms; share their tobacco-rich lifestyle with good friends and veteran smokers alike; and profess their love for a good smoke with cigar enthusiasts of all stripes, from around the world. Cigar smokers are a passionate bunch – and whether it is food, drink, sports or cigars they're fanatical about, Cigar Advisor shares those passions with a razor-sharp edge. Find that passion and more on display at CigarAdvisor.com.
Famous Smoke Shop
90 Mort Drive
​Easton, PA 18040
800-564-2486
Source: Cigar Advisor
Share: